You can travel from Flores to Antigua by shared shuttle, luxury bus, private transfer, or rental car.
Antigua is a captivating colonial city framed by two volcanoes in the southern region of Guatemala. It's a place with a long history and culture, but Antigua's real treasure lies in its rich nature as well!
The colorful Antigua is surrounded by lush forest landscapes with numerous coffee plantations. These coffee plantations have also become popular day tour attractions, where you can visit and learn more about Guatemalan coffee!
Additionally, Antigua's charming narrow cobblestone streets are lined with bustling open-air markets and trendy little cafes and restaurants. It's the perfect setting to explore and dive into the local culture or enjoy delicious Guatemalan cuisine!
And if you're more into exciting outdoor activities, the surrounding landscapes and volcanoes will also allow you to experience an unforgettable adventure!
You can book a guided day tour or join a volcano hike like this Guided Trek to the Pacaya Volcano! You will get the unique opportunity to hike through the gorgeous pine forest and discover some of the most magnificent views of Antigua!
So, book a spot on this tour today, and don't miss out on the beauty of Antigua!
Distance from Flores to Antigua
The distance from Flores to Antigua is about 517 kilometers or 321 miles. The journey duration is about 9 hours and 35 minutes by car.
Getting to Antigua from Flores
1. Shared Shuttle from Flores to Antigua
Travel time: 12 hours
An inexpensive and convenient way to get from Flores to Antigua is by taking a shared van shuttle!
A one-way ticket on these shared shuttle vans costs USD 64, which is a very reasonable price considering the long distance you'll be traveling.
The trip on a shared van shuttle takes 12 hours, which is faster than some bus options. However, there is only one daily departure, so if you choose to travel from Flores to Antigua this way, it's best to ensure you have your seats secured in advance.
Since this mode of transportation is less frequent, we recommend checking the availability of your intended dates on time and buying tickets online!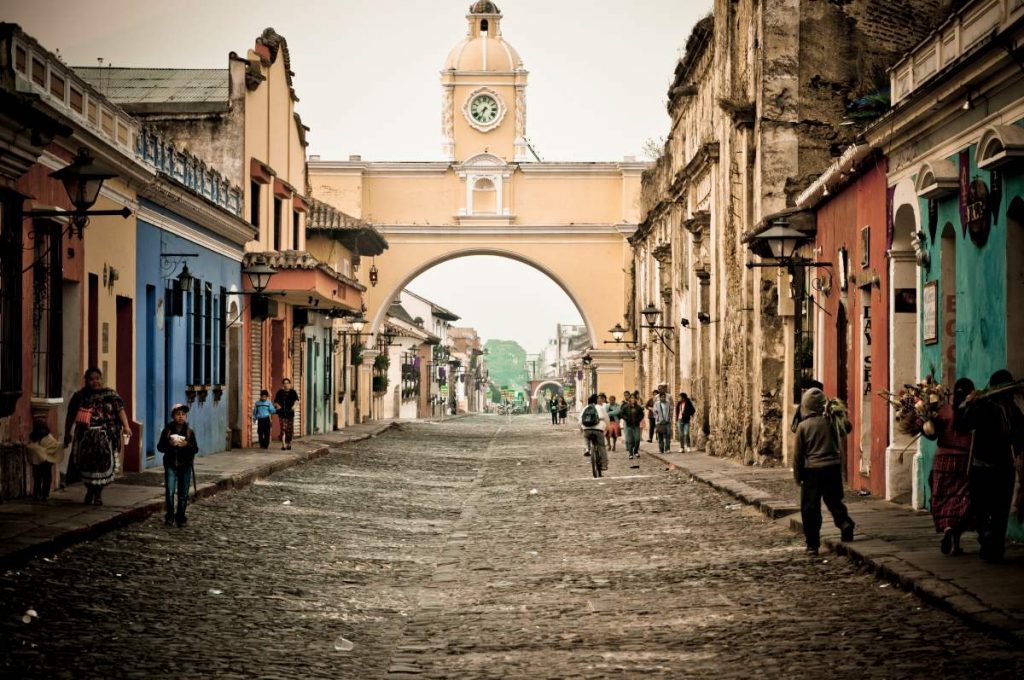 2. Maya De Oro Bus from Flores to Antigua
Travel time: 11-13.5 hours
The most popular means of transportation between Flores and Antigua are the Maya De Oro Luxury Buses!
Depending on which bus you take, the trip can last between 11 and 13.5 hours. However, Maya De Oro's modern and well-equipped luxury buses make this trip enjoyable and comfortable despite the long distance.
Every day, two luxury buses depart from Flores to Antigua. These buses have wifi, air conditioning, reclining seats, and onboard toilets.
You can also choose between an overnight and a daytime bus depending on your travel plans. However, we recommend getting on the night bus since you won't have to waste a day on bus travel, and you can arrive in Antigua early in the morning, well-rested and ready to explore!
These buses leave Flores and make a stop at Guatemala's Bus Station, where you can change to a more compact shared van that will take you to Antigua.
If you plan to take the bus, you should check the schedule and reserve your seats online in advance since there are only two daily departures!
| Departure Time | Arrival Time | Duration | Price per Person | |
| --- | --- | --- | --- | --- |
| 09:00 PM | 10:30 AM | 13 hours 30 minutes | USD 67 | |
| 09:00 PM | 08:00 AM | 11 hours | USD 95 | |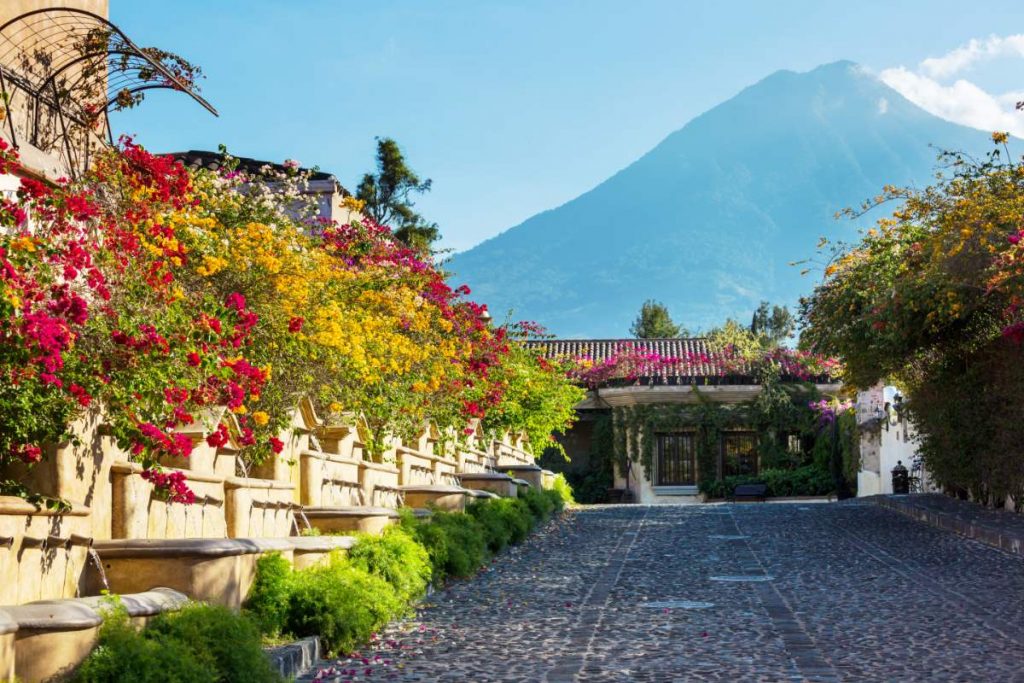 3. Private Transfer from Flores to Antigua
Travel time: 9 hours 35 minutes
If you want your travel from Flores to Antigua to be as quick and comfortable as possible, we strongly suggest booking a private transfer!
This is the ideal means of transportation since it allows you to plan and organize your trips while also providing top-of-the-line vehicles that can carry more passengers, a comfortable interior, and air conditioning!
In particular, given the lengthy 9-hour trip to Antigua, you want to have all of that when you travel.
Because private shuttles are more flexible and effective, you can stop at particular locations on request to snap pictures, use the bathroom, or just take a break to stretch your legs.
You also get to choose your pickup location in Flores and get taken to Antigua by a private driver in a little over 9 hours!
Unless you're traveling solo, this transportation method is the simplest and most affordable way to go from Flores to Antigua if you agree to split the cost among your group!
Do you need help arranging your private transfer from Flores to Antigua?
Fill out the form below, and one of our Guatemala experts will contact you!
We can also organize your transport in Mexico, Costa Rica, the USA, and Colombia!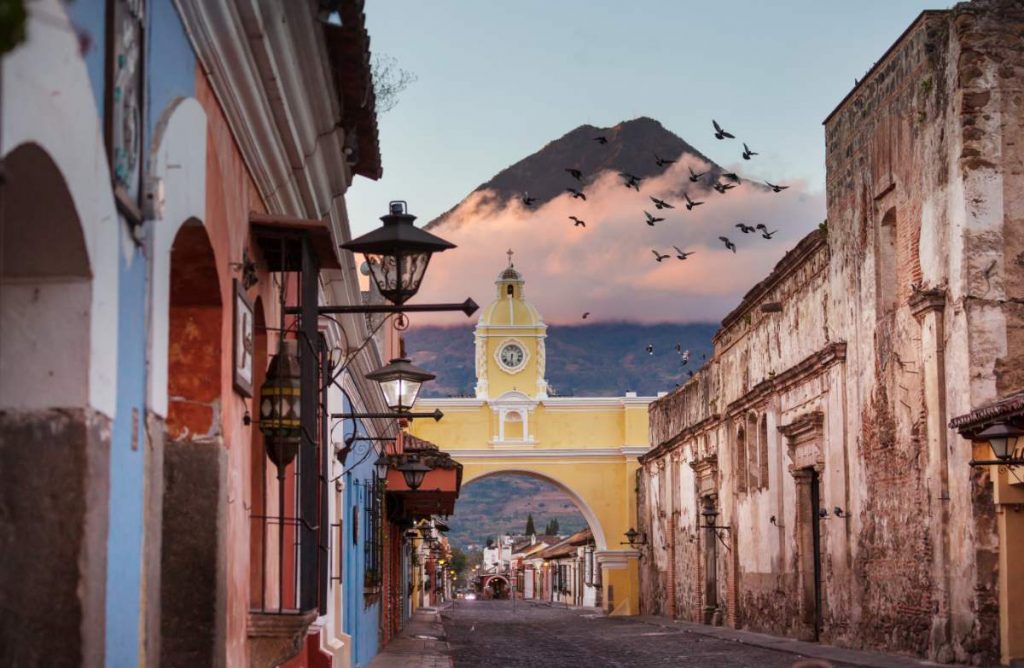 4. Driving with Rental Car from Flores to Antigua
Travel time: 9 hours 35 minutes
And lastly, if you want to travel from Flores to Antigua as quickly as possible or want to explore Guatemala, we recommend renting a car and going on an independent road trip!
Driving from Flores to Antigua may become difficult and challenging, considering the long distance. It's far, and traveling from point A to point B in a foreign country isn't always easy.
However, if you still decide to take this option, the 9-hour drive from Flores to Antigua will surely be one you'll remember!
By renting a car, you can arrive in Antigua much faster and have total freedom when arranging your itinerary! In addition, traveling by car is the quickest method of transportation from Flores to Antigua.
Additionally, traveling independently is also the ideal way to explore the region and enjoy the gorgeous views!
And the best part? You'll be surprised to discover how simple it is to find and reserve inexpensive car rentals in Flores!
We recommend you make a reservation in advance!
Best day tours in Antigua, Guatemala
Explore one of the most diverse countries on Earth with Get Your Guide—an excellent choice for travelers who want to make their vacations exciting and unforgettable!
Whether you're looking for a vacation, road trip, or adventure in Guatemala, Get Your Guide has something for every traveler.
Get ready to see the world through and experience unforgettable memories while taking advantage of personalized suggestions, guided trips, and famous landmarks!
Check out the following widgets for more day tours in Antigua, Guatemala!
Frequently Asked Questions
What is the cheapest way to travel from Flores to Antigua?
The cheapest way to travel from Flores to Antigua is by shared van shuttle, which costs only USD 64!
What is the fastest way to travel from Flores to Antigua?
The fastest way to travel from Flores to Antigua is by car. Traveling by car takes about 9 hours and 35 minutes. To travel by car, you can hire a private transfer or rent a car!
What is the most popular transportation option for traveling to Antigua from Flores?
The overnight Maya Del Oro Luxury Bus is the most popular option for travelers going from Flores to Antigua!
Is there a direct bus from Flores to Antigua?
The bus departing from Flores to Antigua has a final stop in Guatemala City, where passengers must get on a smaller shared van shuttle that takes them directly to Antigua.