Every settlement, community, and municipality in Guatemala is connected with chicken buses. Traveling by bus is the most prevalent and most cost-effective means of travel.
They're known as chicken buses by tourists from other countries because they occasionally transport live chickens or other pets from one place to another.
These brightly colored trucks aren't just about the animals. In addition, a wide variety of goods are being carried. Veggies, fruits, horticultural products, and other goods may be seen on the top of the bus as it travels.
A chicken bus in Guatemala is known for a range of factors. One reason might be that people are jammed into buses like chickens onto a moving truck. Another possible explanation is that people regularly travel with animals in addition to their baggage, such as hens.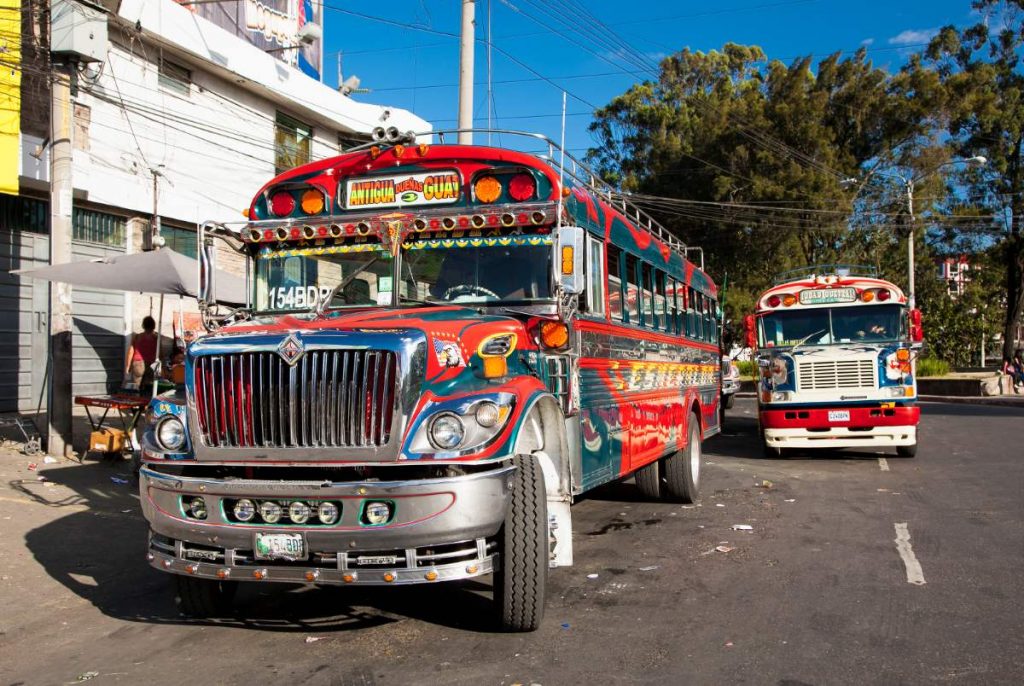 In Guatemala, a vacation would not be perfect before riding in some of those brightly colored chicken buses. Due to their vibrant colors, they look well with Guatemalan traditional wear.
The interiors of the buses are just as vibrant as the exteriors, if not more so. Christmas decorations and pompoms are likely to be adorning the inside, which may have boxers or Che Guevara paintings. In addition to the music, sometimes there are screenings of Spanish films.
Origin of Chicken Bus Guatemala
In Guatemala, these buses operate from all over the country. As it turns out, they are repurposed American school buses.
The majority of school buses in the United States are a minimum of a century old and have logged more than fifty thousand kilometers. They are auctioned off for roughly $2,000 and sold to customers who ride them to Guatemala.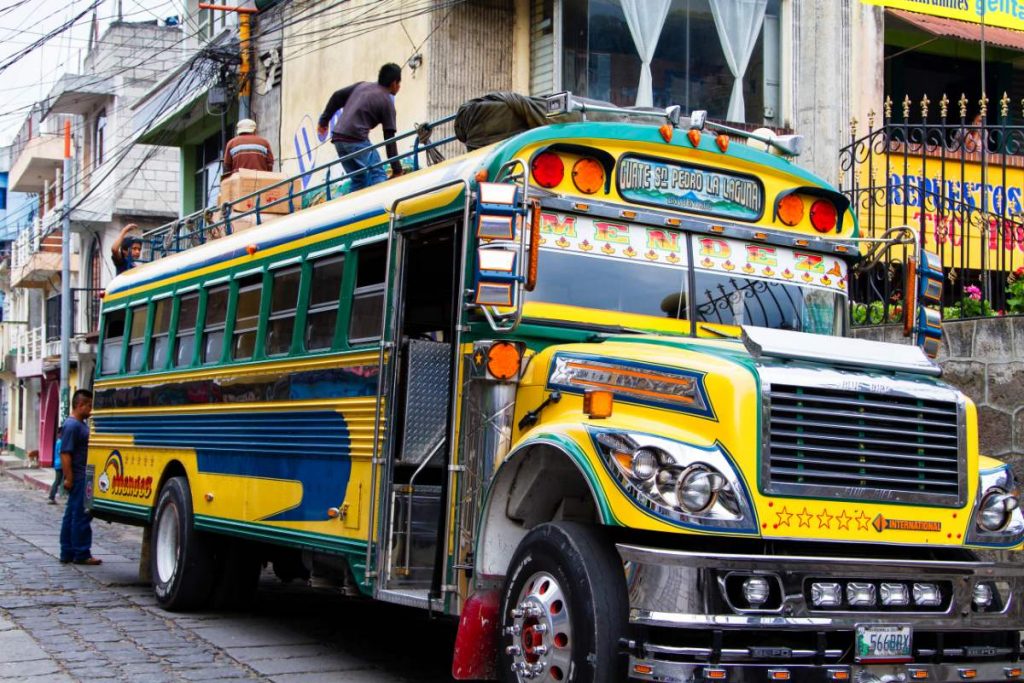 It's prepared for an extreme makeover once the chicken bus arrives in Guatemala. The buses are brought to the shop for mechanical maintenance and a cosmetic makeover.
It is where the owner's originality shines through the most. The bus may be airbrushed in various vibrant colors based on the area or station it serves.
In the garage, the buses get structural modifications and a cosmetic update. In this area, the proprietor's real ingenuity may be shown. The bus's airbrush painting and decals vary according to the route and company.
Chicken buses in Guatemala have the name of a lady or a bus company. If you're ever in the region, keep an eye out for an Esmeralda in green and red.
Colorful bumpers and lighting give the chicken bus a swaggering appearance. Use the chicken bus to go from one town to another in Guatemala's departments and towns.
Everywhere in the nation, they're in use, and the number of citizens who have to use them outnumbers people owning cars.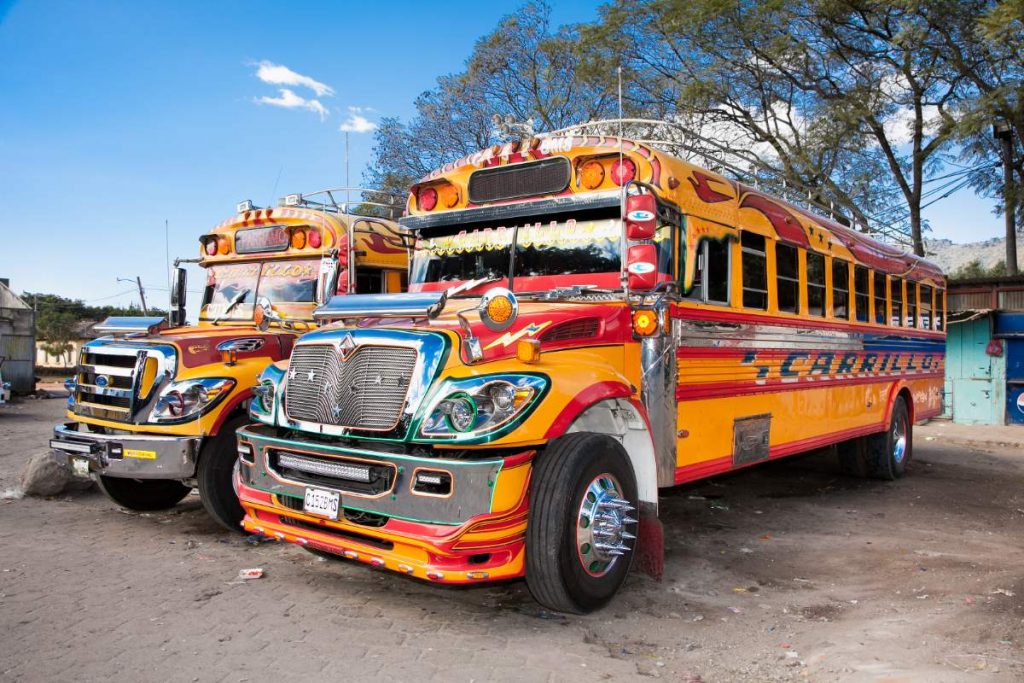 Operation
The windows are covered with silvery Christian phrases, Christmas decorations, fringes, and portraits of naked female figures or Chee Guevara.
The initials of women and wrestlers' banners are sprayed on the outside, the doors are often covered with boxing pictures, and the music system is typically turned up. Chicken Buses have been the most prevalent mode of public transit after being restored.
Many of these enterprises are run by families. The drivers and ayudantes (the person who receives the fees and delivers the balance) are generally accompanied by a cranky mobile phone-wielding ayudante.
As well as helping the elderly with their luggage, these individuals also store people's suitcases and cartons in the overhead compartments.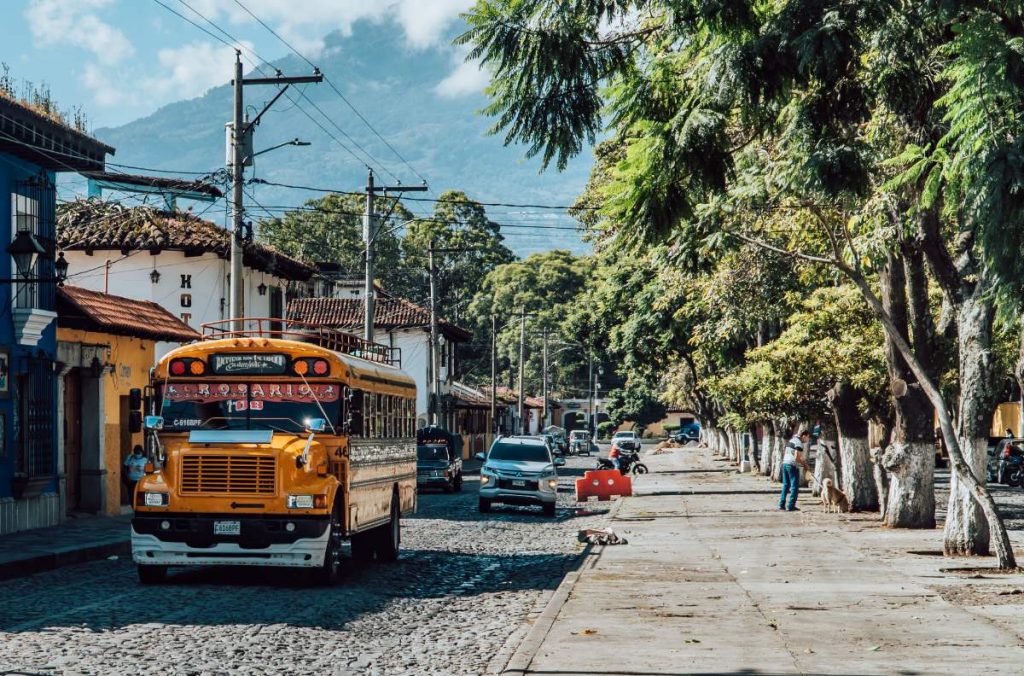 There are no guarantees while traveling on a chicken bus in Guatemala. These buses are a unique mode of travel that involves paying with cash, unlike regular modes of public transit that need a pre-loaded card. Small dollars and coins are usually a good idea for paying your fare.
Ask around rather than regularly check out for the chicken bus after finding the bus station or stop you need. The brocha will help you put your bultos onto the roof if you make a finger gesture to indicate that you need their assistance.
Other options include keeping the suitcase inside using the overhead baggage rack. Once you've boarded, make haste if you must share a seat as these buses tend to be overbooked.
To collect money from travelers, the brocha or ayudante will inquire about your destination. When you see the money these men carry in cash, you'll be shocked. Passengers pay a daily charge to use the service.
It's not only the appearance of a chicken bus in Guatemala that's eye-catching; you'll also find a plethora of high-tech amenities inside, including flat-screen Televisions, speakers, sound systems, and fluorescent lighting.
Vendors may be allowed to sell food, beverages, and souvenirs throughout the journey. From the mamita hawking prepared sandwiches, there's usually a distinct pan con Pollo or pan with chile aroma in the air.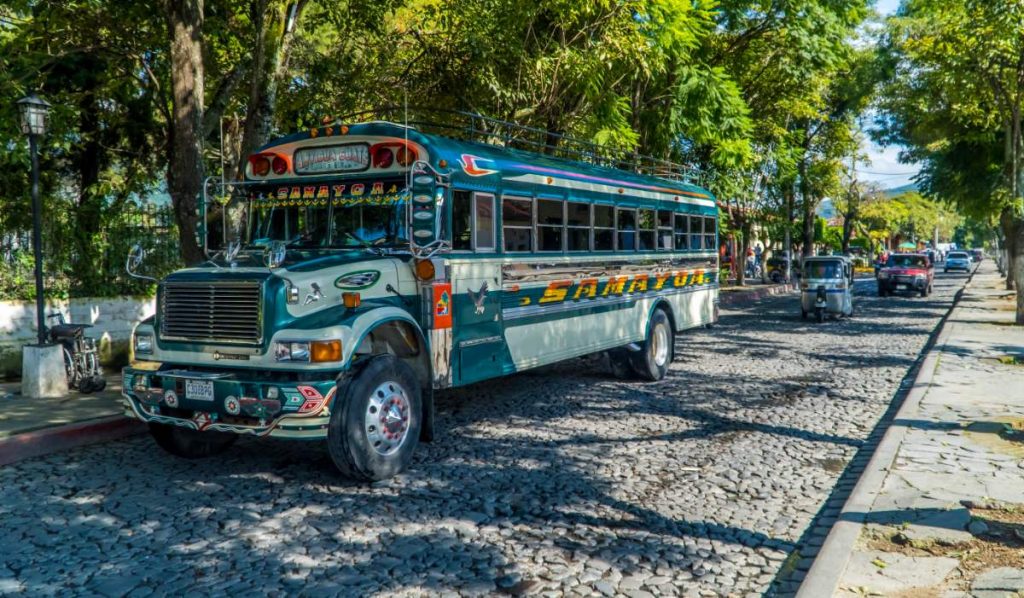 Many youngsters prefer to listen to their music while on the bus, even if the vehicle has a pre-loaded playlist. The tracks are a whirlwind of activity.
Short-distance buses have seats that may become bothersome pretty quickly. Embrace it: It's the price you have to pay for a rich cultural experience that will stay with you for a generation. You may have to reconsider taking the bus if you have long legs since legroom is limited and controlled.
These trucks are not suitable for those who must get to their destination faster. Buses may depart when they're full or even when the captain chooses; schedules aren't often followed.
Residents and others may be able to provide you with information on flight and departure timings. Passengers may need to be picked up or dropped off at random points throughout the route.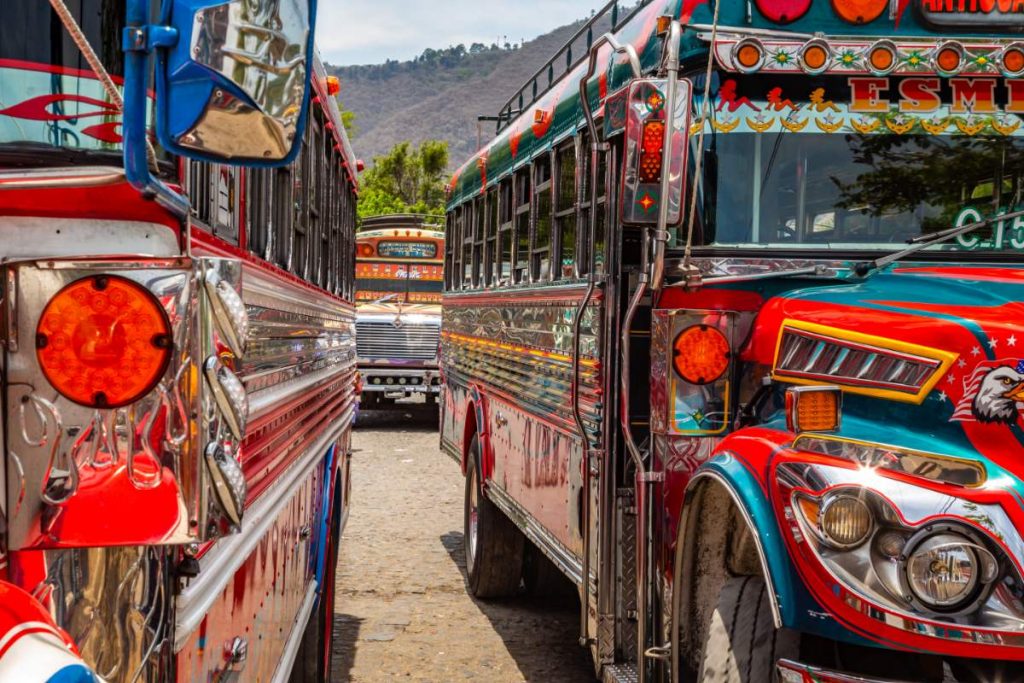 To discover the timetables per route throughout Guatemala, check their informative website. It includes the stops throughout the nation, the length of the journey, and the bus route to transport you there.
Regrettably, only a few transportation businesses own websites, but those that do provide comprehensive information.
Checking everywhere is a great choice as well. Antigua Guatemala has a designated station for each Guatemala chicken bus. You only need to go there and inquire which ride takes you to your selected location.
The Undoing of Guatemala Chicken Bus
Chicken Buses are the most inexpensive public transportation in Guatemala, but they are also crowded. These colorful vehicles have a bad reputation for always being deadly, notwithstanding their vivid décor.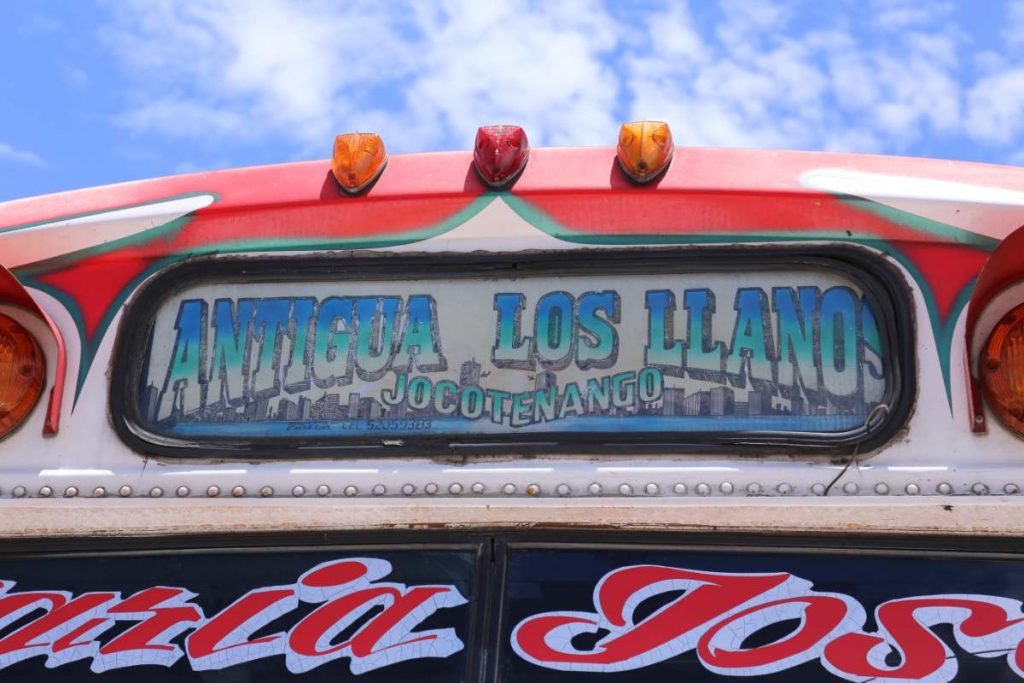 A Guatemala chicken bus will quickly bring you to your location when traveling. They tend to speed, especially while driving on winding roads. It will be a rough journey, and there won't be any seat belts.
You have to watch your valuables to prevent someone from stealing them from you. Make use of your rational thinking and instinct to keep yourself secure. There are a lot of bus routes that aren't direct and need you to switch buses a few times along the way.
If you occupy a seat with other individuals, remember that this is common practice in a Guatemala chicken bus.
Road accidents are notorious for being particularly cruel and harsh. Most buses do not have safety belts, travelers are often forced to remain standing in the aisles, and mountainous routes are typically narrow.
However, the risk posed by the interior side of the country buses cannot be overstated since they often go through areas controlled by criminal gangs.
It is one of the riskiest jobs globally because drivers are obliged to pay tolls in certain regions and are often targets of violent crime, rendering it the most dangerous employment in the world.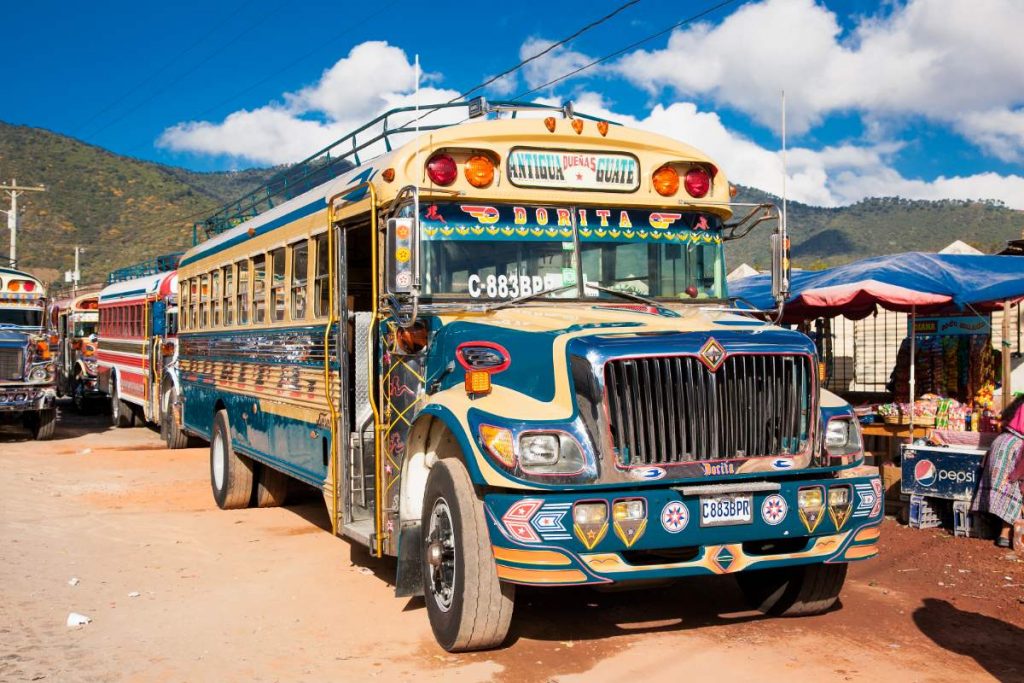 Chicken Buses as a Symbol of Guatemala
No matter how disgusting the majority of Guatemala chicken buses require a severe engine repair, they are unquestionably a national treasure in Guatemala. The bus is the subject of a wide range of souvenirs in Guatemala, including small items, ceramic sculptures, posters, and more.
In addition to the many photographic books and exciting documentaries, the buses have been the topic of numerous different media.
The Chicken Bus Guatemala is a spectacular and rather shocking sight to witness. It also makes a complex message on the present status of the socio-economic gap around the globe.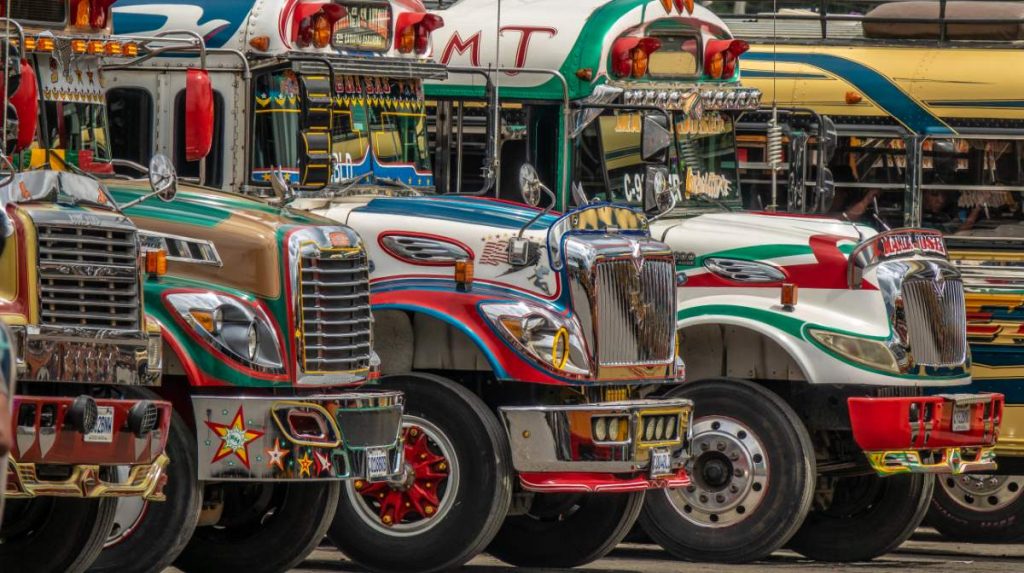 Due to the general length of time that these abandoned buses spend after they arrive in this country, they could symbolize both the depravity and the prosperity of the United States in some people's eyes.
For some people, they may represent the resourcefulness and tenacity of the Guatemalan people. The Chicken Bus phenomenon, like so many other aspects of life in this nation, can be both humorous and devastating at different moments.
No matter how you look, Guatemala couldn't be Guatemala if it didn't have the peculiar cultural phenomenon called the Chicken Bus.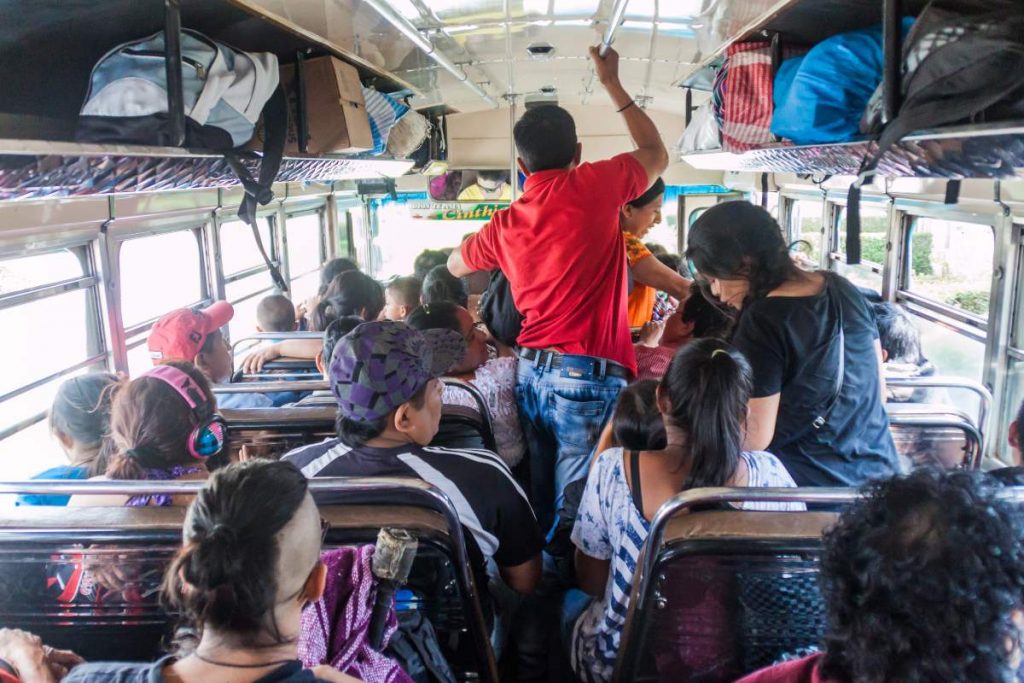 Frequently Asked Questions
Why is it called a chicken bus?
They're known as chicken buses by tourists from other countries because they occasionally transport live chickens or other pets from one place to another.