You can travel from El Paredon to Antigua by shared shuttle, private transfer, taxi, and rental car.
In the shadow of three majestic volcanoes, Antigua unveils its mesmerizing tapestry of history, culture, and natural beauty to those who venture within its borders!
This UNESCO World Heritage Site, once the flourishing capital of the Spanish colony, stands as a testament to the fusion of colonial elegance, indigenous heritage, and breathtaking landscapes.
As you traverse Antigua's charming cobblestone streets, you'll be greeted by a vibrant tableau of baroque architecture, evocative ruins, and bustling markets, each bearing witness to the city's storied past.
The alluring fragrance of freshly brewed coffee mingles with the tempting aroma of sizzling street food, enticing visitors to savor the delectable flavors unique to Antigua!
Bathed in the warm glow of the setting sun, the city's pastel-colored facades radiate a captivating charm that lingers long after your journey ends.
Embark on an unforgettable adventure with the Pacaya Volcano Trek From Antigua, a once-in-a-lifetime experience that will leave even the most seasoned explorers awestruck!
Feel the thrill of conquering one of Guatemala's most active volcanoes as you ascend its slopes alongside an experienced guide, uncovering the hidden marvels of this geological wonder.
Don't miss your chance to explore the wonders of Pacaya Volcano; book this tour today and embark on an unforgettable journey that promises to captivate and inspire at every step!
Distance from El Paredon to Antigua
The distance from El Paredon to Antigua is about 106 kilometers or 65.9 miles by car.
The duration of the trip from El Paredon to Antigua is about 2 hours.
Getting to Antigua from El Paredon
1. Atitrans Shared Van Shuttle from El Paredon to Antigua
Travel time: 3 hours
Embarking on a journey from El Paredon to Antigua, Guatemala? Look no further than the Atitrans Shared Shuttle for a seamless and budget-friendly transportation option!
For a mere USD 26, this reliable shuttle service ensures a comfortable and hassle-free transfer between the two locations.
Covering the distance in approximately 3 hours, Atitrans caters to your convenience by offering door-to-door service, sparing you the stress of navigating unfamiliar stations.
Each shuttle van is meticulously maintained and equipped with air conditioning, providing a pleasant atmosphere. As you cruise through the captivating Guatemalan countryside, sit back and relish the picturesque vistas en route to the charming city of Antigua!
Note that there's only a single daily departure, so booking your tickets online ahead of time is wise to guarantee your spot. With Atitrans' Shared Shuttle, your journey to Antigua is bound to be both enjoyable and worry-free!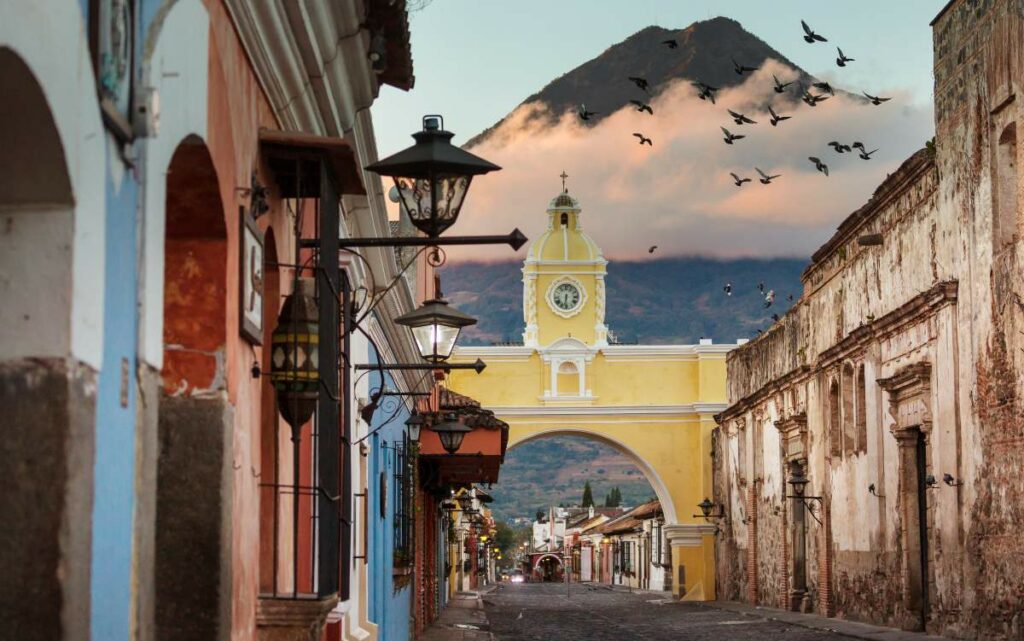 2. Private Transfer from El Paredon to Antigua
Travel time: ~2 hours
For those who value a bespoke and adaptable transportation experience, a private transfer offers the perfect solution for your journey from El Paredon to Antigua, Guatemala!
Embrace the luxury of having a private vehicle solely for you or your travel companions and the freedom to set your desired departure time.
To arrange a private transfer effortlessly, simply check out the options and book online, or complete the form below, and we'll take care of the rest!
Typically, the journey between El Paredon and Antigua spans approximately 2 hours and 20 minutes, though this may vary based on traffic conditions. Revel in the autonomy to pause at your leisure during the trip, allowing yourself some extra time to explore!
A private transfer is particularly convenient for group travelers or those with an abundance of luggage or gear.
By splitting the cost among your party, you can transform this premium service into an affordable option for all. If a tailored and comfortable journey from El Paredon to Antigua is what you seek, secure your private transfer today!
Prices for a private transfer from El Paredon to Antigua
Up to 3 passengers: USD 132
Up to 6 passengers: USD 150
Up to 9 passengers: USD 210
Do you need help arranging your transportation?

Complete this form and one of our transportation specialists will contact you!
We specialize in arranging transportation across Guatemala, Costa Rica, Mexico, Peru, Panama, Brazil, Thailand, and Colombia!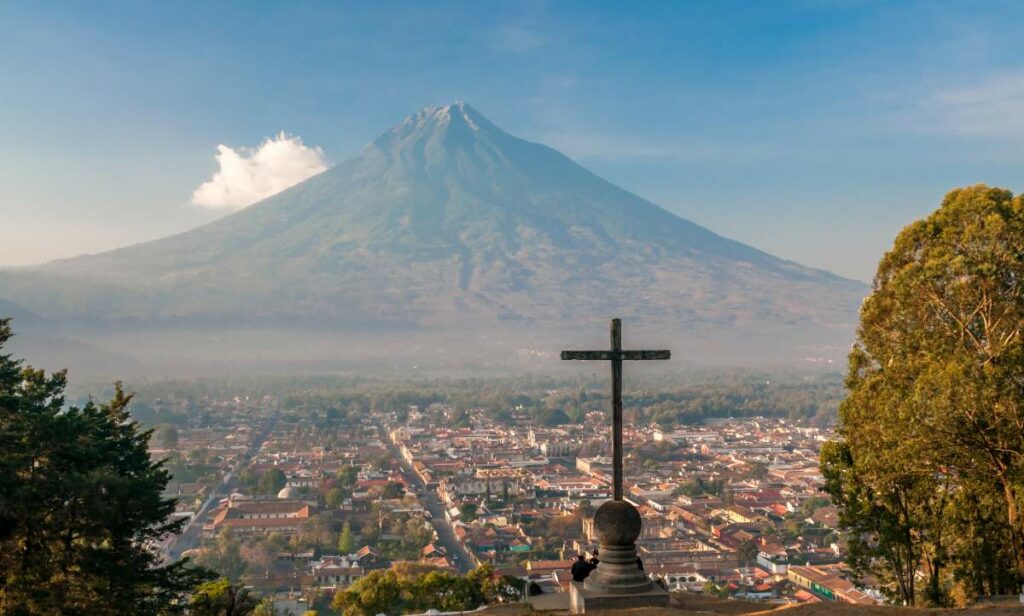 3. Driving with Rental Car from El Paredon to Antigua
Travel time: ~2 hours
For independent travelers who crave the liberty to explore at their leisure, a rental car provides the ideal solution for traveling from El Paredon to Antigua!
With your own vehicle, you can craft your itinerary, pause for spontaneous discoveries, and relish in the convenience of a personal mode of transport.
The drive between El Paredon and Antigua typically spans around 2 hours, with additional time for any pit stops you make.
However, it is crucial to remember that navigating Guatemalan roads can pose challenges, particularly for those unaccustomed to local driving conditions. Exercise vigilance and caution while behind the wheel, and avoid nighttime driving when possible.
If you're a seasoned motorist searching for unparalleled transportation autonomy, browse online for the best rental car options and reserve your vehicle in advance!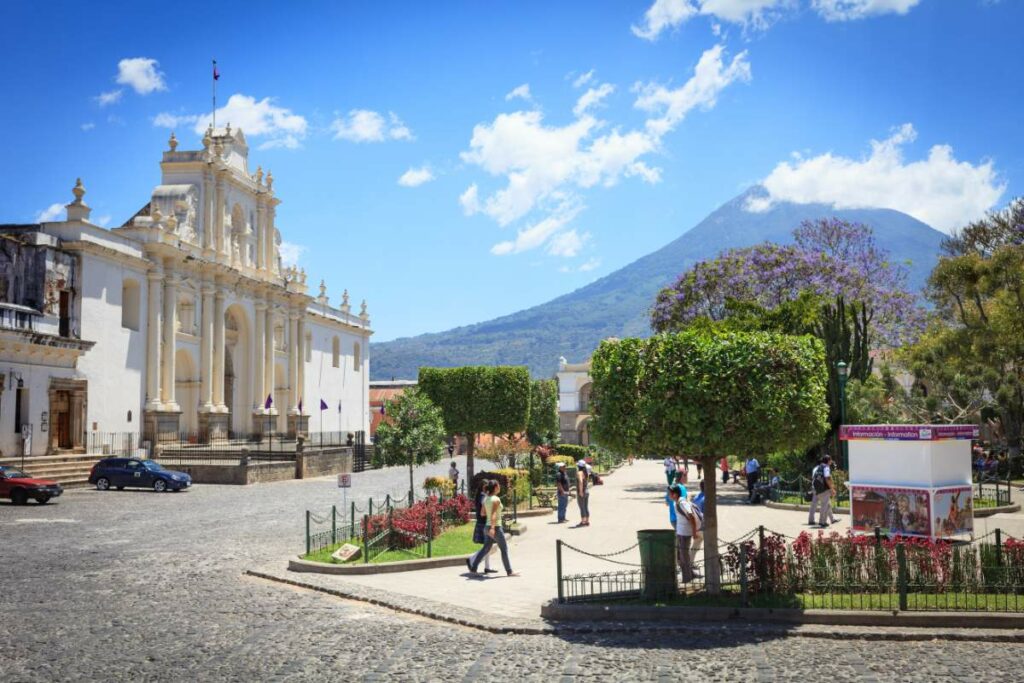 4. Taxi from El Paredon to Antigua
Travel time: ~2 hours
And lastly, for those who value the ease of door-to-door service and a direct path to their destination, a taxi presents a solid choice for traveling from El Paredon to Antigua!
Readily accessible throughout the country, taxis can be found with ease on the streets or arranged via your accommodation or a taxi firm.
The trip from El Paredon to Antigua generally lasts around 2 hours. However, be aware that choosing a taxi can be more costly than alternative modes of transport, with the fare for this route typically amounting to around USD 75.
To ensure a fair price, using a reputable taxi provider or negotiating the fare with the driver beforehand is advisable.
For your safety and to avoid potential scams, we encourage travelers to opt for taxis from official stands or those provided by your hotel.
Best day tours in Antigua, Guatemala
Explore one of the most diverse countries on Earth with Get Your Guide—an excellent choice for travelers who want to make their vacations exciting and unforgettable!
Whether you're looking for a vacation, road trip, or adventure in Guatemala, Get Your Guide has something for every traveler.
Get ready to see the world through and experience unforgettable memories while taking advantage of personalized suggestions, guided trips, and famous landmarks!
Check out the following widgets for more day tours in Antigua, Guatemala!
Frequently Asked Questions
What is the cheapest way to travel from El Paredon to Antigua, Guatemala?
The cheapest way to travel from El Paredon to Antigua is by boarding a shared van shuttle. The Atitrans Shared Shuttle tickets from El Paredon to Antigua cost only USD 26!
What is the fastest way to travel from El Paredon to Antigua, Guatemala?
The fastest way to travel from El Paredon to Antigua, Guatemala is by car. Traveling by car from El Paredon to Antigua takes a little over 2 hours, and you can use a taxi, a private transfer or rental carto reach your destination as fast as possible!
Can I take public transportation from El Paredon to Antigua?
Yes, you can take public transportation, but it involves multiple transfers and can be time-consuming. Taking a private shuttle or a shared van shuttle is recommended for a more comfortable and efficient journey.
How much does it cost to travel from El Paredon to Antigua by taxi?
The taxi cost from El Paredon to Antigua can vary depending on the company, vehicle type, and the number of passengers. On average, it can cost around USD 75 for a one-way trip.
Is it safe to travel from El Paredon to Antigua?
es, it is generally safe to travel from El Paredon to Antigua. However, exercising caution and being aware of your surroundings is always important, especially when taking public transportation.
More Routes from El Paredon