You can travel from Palenque to Flores by shared van shuttle or private transfer.
Nestled amidst the serene waters of Lake Petén Itzá, Flores is a picturesque island city that transports visitors to a world of vibrant colors and unparalleled beauty.
This charming haven, brimming with history and adorned with cobbled streets, is your gateway to the heart of Mayan civilization.
As you wander the narrow lanes, immerse yourself in the rich cultural tapestry, and marvel at the stunning colonial architecture, you'll be captivated by the allure of this hidden gem.
But Flores is not just a destination; it's a launchpad for venturing into the mystic depths of Guatemala's rainforests and ancient wonders.
With a breathtaking backdrop of lush green landscapes and the melodies of exotic birds in the air, Flores invites you to embark on a journey of a lifetime.
Join this Tikal Day Tour From Flores With Lunch, an experience curated to satiate your thirst for adventure and knowledge!
This unforgettable excursion will guide you through the secrets of the ancient Mayan city of Tikal, an archaeological masterpiece that has stood the test of time.
As you explore the towering pyramids and sacred temples, our expert guides will share the fascinating stories that have shaped the Mayan civilization.
After a day filled with excitement and discovery, savor a delicious lunch amid the serene surroundings of the jungle.
Don't miss this unparalleled opportunity to experience the wonders of Tikal and create everlasting memories – book your tour now and join us on this extraordinary adventure!
Distance from Palenque to Flores
The distance from Palenque to Flores is about 322.7 kilometers or 200.5 miles by car.
The duration of the trip from Palenque to Flores is about 6 hours.
Getting to Flores from Palenque
1. Shared Shuttle from Palenque to Flores
Travel time: 8 hours
Choosing a shared van shuttle for your journey from Palenque to Flores is an excellent decision for those seeking a budget-friendly and convenient mode of transportation!
As the sole public transportation option available on this international route, shared van shuttles are favored by locals and tourists alike for their comfort and ease of travel between the famous ruins of Palenque in Mexico and the enchanting island city of Flores in Guatemala.
Embarking from Palenque in the early morning hours, shared van shuttles provide hotel pickups for all passengers, ensuring a seamless start to your adventure.
With a travel time of approximately 8 hours, factoring in traffic and border crossing durations, it's wise to be well-prepared with snacks and entertainment to make the most of your journey.
The vans boast air-conditioning and cozy seating, while the experienced drivers navigate the route skillfully, handling all logistics, such as border procedures, for a hassle-free experience.
Its affordability is among the numerous benefits of selecting a shared van shuttle for this trip. With ticket prices as low as USD 59, it's an unbeatable choice for cost-conscious travelers.
However, keep in mind that these shuttles can fill up quickly, so booking your seat in advance is highly recommended to secure your spot.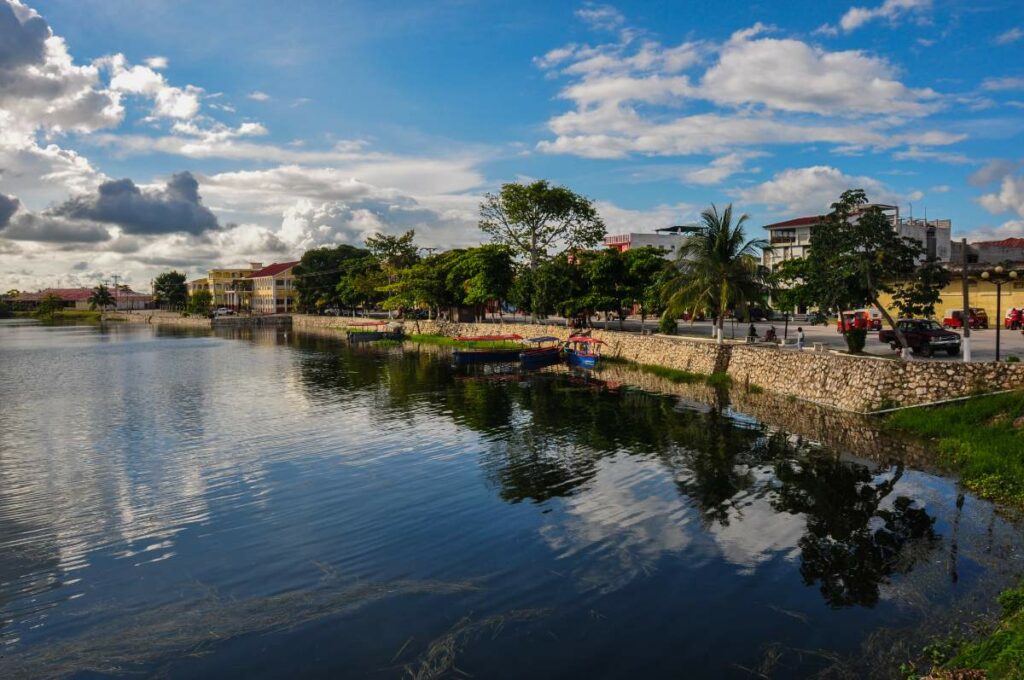 2. Private Transfer from Palenque to Flores
Travel time: 6-7 hours
A private transfer may be the perfect option for those who prefer a more exclusive and personalized travel experience from Palenque to Flores.
Catering to small groups or individuals seeking comfort and customization, private transfers allow you to journey across borders in a style that suits your preferences.
With a private transfer, a dedicated driver and vehicle will collect you from your Palenque hotel and transport you directly to your Flores destination, bypassing any unwarranted stops.
This mode of transportation is a top choice for those who prioritize convenience, privacy, and adaptability.
Not only can you set your departure time, but you also have the freedom to tailor your journey according to your desires, making it ideal for travelers seeking to avoid crowded spaces and maintain control over their schedule.
Modern and well-maintained, the vehicles used for private transfers often come equipped with air conditioning, comfortable seating, and ample legroom.
Your experienced driver will be well-versed in the route and will ensure your safe, timely arrival at your destination.
While private transfers offer a superior level of comfort and convenience, it's worth noting that they come at a higher price compared to other transportation options.
However, for those willing to invest a little extra or share the cost with a group, a private transfer is undoubtedly an exceptional choice for a more relaxed and enjoyable journey!
To secure your private transfer, explore reputable online travel agencies or contact us through the form below for assistance in finding the perfect option for your needs!
Heb je hulp nodig bij het regelen van je vervoer?
Vul het onderstaande formulier in, en een van onze Guatemala-experts neemt contact met u op!
Wij kunnen ook uw transport organiseren in Mexico, Costa Rica, de VS en Colombia!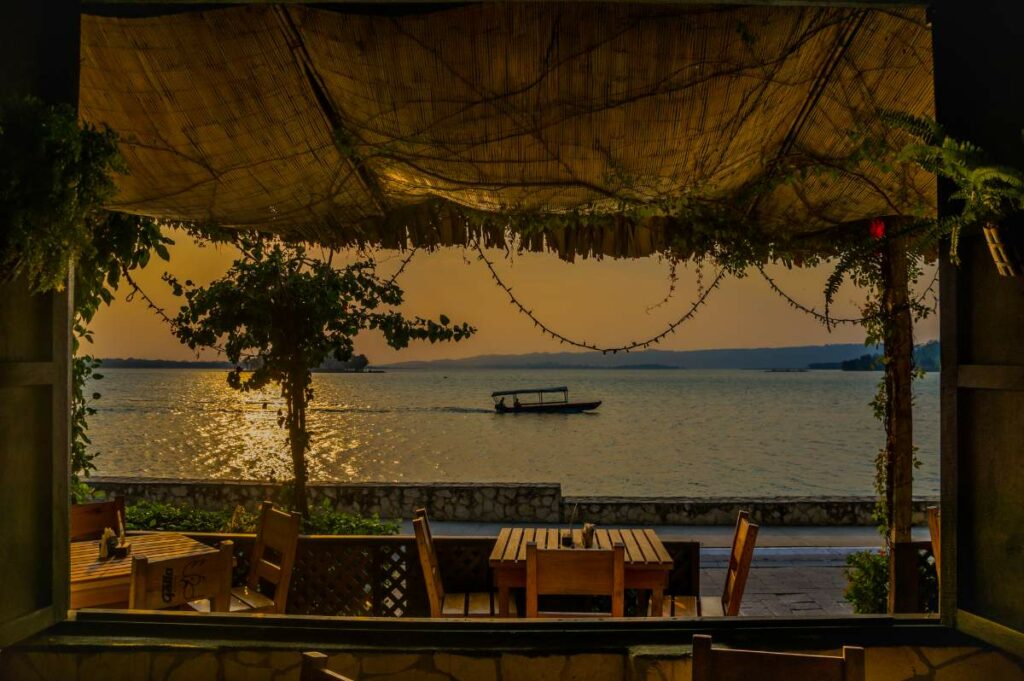 Best day tours in Flores, Guatemala
Explore one of the most diverse countries on Earth with Get Your Guide—an excellent choice for travelers who want to make their vacations exciting and unforgettable!
Whether you're looking for a vacation, road trip, or adventure in Guatemala, Get Your Guide has something for every traveler.
Get ready to see the world through and experience unforgettable memories while taking advantage of personalized suggestions, guided trips, and famous landmarks!
Check out the following widgets for more day tours in Flores, Guatemala!
Frequently Asked Questions
What is the cheapest way to travel from Palenque to Flores?
The shared van shuttle is the cheapest way to travel from Palenque to Flores. Shuttle tickets are available for only USD 59!
What is the fastest option to get from Palenque to Flores?
The fastest option to get from Palenque to Flores is by car. The journey from Palenque to Flores takes about 6-7 hours by car.
Do I need a visa to travel from Palenque to Flores?
Visa requirements depend on your nationality. When traveling from Mexico to Guatemala, most tourists from the United States, Canada, European Union countries, and several other nations can enter without a visa for short stays. However, it's essential to check the specific requirements for your country before making travel plans.
What is the best time to visit Flores, Guatemala?
The best time to visit Flores is during the dry season, which typically lasts from November to April. During this time, you can expect pleasant weather with less rain, making exploring the city and the nearby Mayan ruins at Tikal easier.
What currency is accepted in Flores, Guatemala?
The local currency in Flores is the Guatemalan Quetzal (GTQ). While some businesses may accept US dollars, having local currency on hand is always a good idea.
Are there any border fees when crossing from Mexico to Guatemala?
Yes, there may be border fees when crossing from Mexico to Guatemala. These fees can vary depending on your nationality but generally range from USD 1 to USD 10.
Is there a direct bus service from Palenque to Flores?
There is no direct bus service from Palenque to Flores. The most common public transportation option is a shared van shuttle.
Meer internationale routes naar Guatemala