You can travel from Lanquin to Flores by shared van shuttle, private transfer, or rental car.
Stepping into the charming town of Flores, Guatemala, feels like traveling back in time. The colorful colonial buildings, cobbled streets, and lakeside promenade create a serene and lively atmosphere!
As you explore the town, the smell of fresh tortillas and spicy chiles wafts through the air, tempting you to try the local cuisine. But beyond the town lies an even more spectacular wonder – the ancient ruins of Tikal.
Towering pyramids, mysterious temples, and lush jungle vegetation await those who embark on the Tikal Ruins Day Tour from Flores!
This tour is a must-do for anyone who loves history, culture, and adventure. So, pack your bags, book your ticket, and get ready to immerse yourself in the wonders of Flores and Tikal!
Distance from Lanquin to Flores
The distance from Lanquin to Flores is about 244.8 kilometers or 152.1 miles by car.
The duration of the trip from Lanquin to Flores is about 6 hours.
Getting to Flores from Lanquin
1. Shared Van Shuttle from Lanquin to Flores
Travel time: 9 hours
When planning your trip from Lanquin to Flores in Guatemala, consider taking a shared van shuttle as your mode of transportation. Not only is this choice budget-friendly, but it also provides a relaxing and enjoyable journey to your destination.
Travelers often prefer shared van shuttles due to their cost-effective nature and the ease of travel they provide. For a mere USD 44, solo adventurers can comfortably make their way from Lanquin to Flores, making it an attractive option for those on a budget!
Head to the Gasolinera Exxon in Lanquin, the departure point, to catch the shared van shuttle.
The shuttle will drop you off at the Flores entrance, allowing for a seamless arrival. However, remember that there's only one departure each day, so it's wise to secure your seat ahead of time.
The trip from Lanquin to Flores typically lasts around 9 hours, with the actual duration dependent on traffic and road conditions.
To guarantee a smooth and worry-free experience, book your shared van shuttle early and arrive at the pick-up location punctually!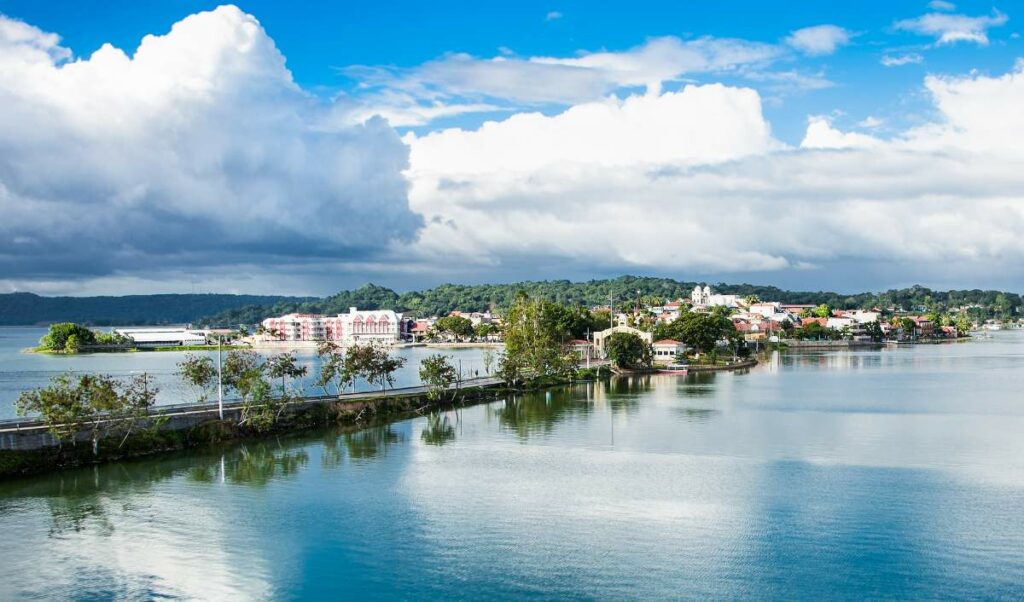 2. Private Transfer from Lanquin to Flores
Travel time: ~6 hours
A private transfer is an ideal choice for travelers seeking a personalized and adaptable journey from Lanquin to Flores. This mode of transportation offers both comfort and the freedom to tailor your trip to your preferences.
You can book with a local transportation company online to secure a private transfer. We encourage you to book early to ensure a smooth and enjoyable trip.
Private transfers typically feature modern, air-conditioned vehicles, such as cars or vans, making them suitable for both small and large groups. One of the primary benefits of choosing a private transfer is the ability to customize your travel itinerary.
You can determine the pick-up time and location that best fits your needs and even plan stops along the way for photo opportunities, stretching, or grabbing a snack!
This adaptability enables you to travel at your own pace and fully immerse yourself in the Guatemalan experience.
Additionally, private transfers offer enhanced comfort and convenience, as a dedicated driver will take care of navigation and any transportation-related concerns, allowing you to sit back and appreciate the picturesque journey from Lanquin to Flores.
While private transfers come at a higher cost than shared van shuttles, around USD 300 for up to 7 passengers, the added value of flexibility and luxury may well justify the extra expense, particularly for larger groups or families.
To make the most of your private transfer, book ahead of time, confirm pick-up details, and enjoy the ride to its fullest.
Prices for a private transfer from Lanquin to Flores
Up to 7 passengers: USD 300
Tu as besoin d'aide pour organiser ton transport ?
Remplissez le formulaire ci-dessous, et l'un de nos experts du Guatemala vous contactera !
Nous pouvons également organiser votre transport au Mexique, au Costa Rica, aux États-Unis et en Colombie !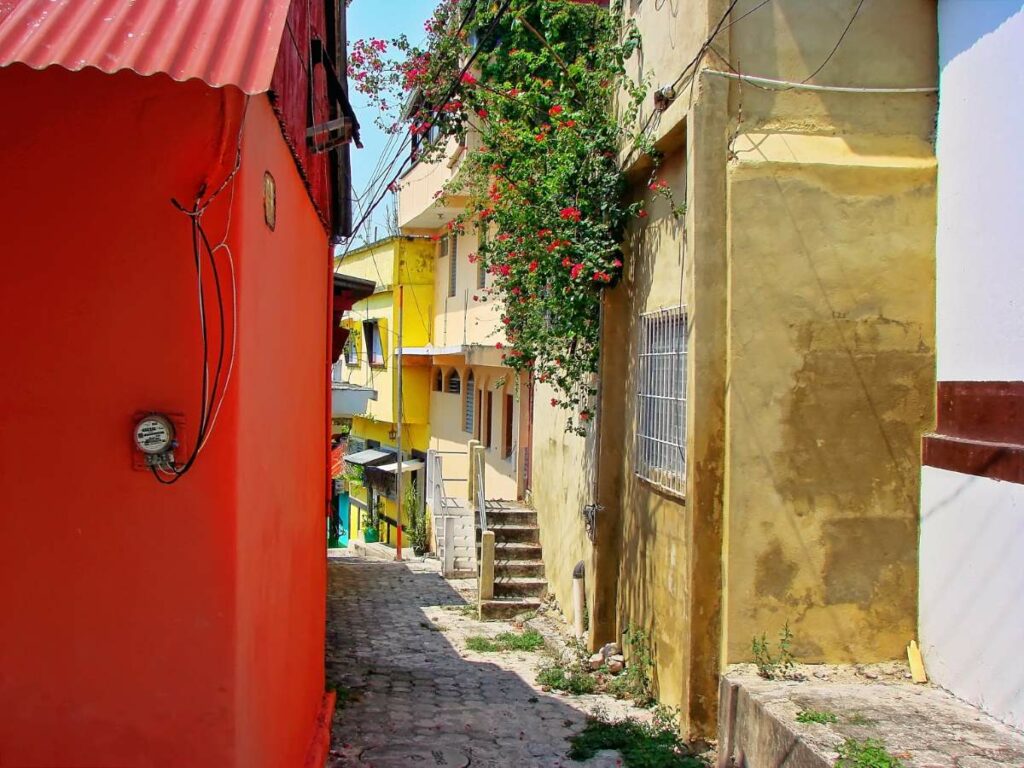 3. Driving with Rental Car from Lanquin to Flores
Travel time: ~6 hours
For the ultimate freedom and adaptability during your journey from Lanquin to Flores, consider renting a car as your transportation method!
A rental car allows you to travel at your leisure, explore off-the-beaten-path destinations, and appreciate the comfort and convenience of your own personal vehicle.
Car rentals in Guatemala are remarkably budget-friendly, offering a range of options to accommodate your specific requirements. The drive between Lanquin and Flores typically spans 6-7 hours, depending on traffic and the state of the roads.
With a rental car, you can choose picturesque routes, pause at breathtaking viewpoints, and visit local attractions en route. This mode of transportation also allows you to discover nearby gems, such as the awe-inspiring natural pools of Semuc Champey or the historic city of Coban!
It's important to be aware that navigating Guatemalan roads and traffic can be challenging for those unaccustomed to the local conditions. As such, driving during daylight hours and adhering to traffic regulations is advised.
To make the most of your rental car experience, plan your route beforehand, practice safe driving habits, and relish the liberty of exploring this stunning country at your own pace.
We also recommend you make a reservation in advance!
Best day tours in Flores, Guatemala
Explore one of the most diverse countries on Earth with Get Your Guide—an excellent choice for travelers who want to make their vacations exciting and unforgettable!
Whether you're looking for a vacation, road trip, or adventure in Guatemala, Get Your Guide has something for every traveler.
Get ready to see the world through and experience unforgettable memories while taking advantage of personalized suggestions, guided trips, and famous landmarks!
Check out the following widgets for more day tours in Flores, Guatemala!
Frequently Asked Questions
What is the cheapest option to get from Lanquín to Flores?
The shared van shuttle is the least expensive way to travel between Lanqun and Flores. Lanquin to Flores shared shuttle tickets are only USD 44!
What is the fastest way to travel from Lanquín to Flores?
Car travel is the quickest way to get from Lanqun to Flores. It takes roughly 6 hours and 30 minutes to drive from Lanquin to Flores.
Is it safe to drive from Lanquin to Flores?
Driving in Guatemala can be challenging for those unfamiliar with local traffic and road conditions. To ensure a safe journey, it's recommended to drive during daylight hours, follow traffic laws, and plan your route in advance.
Are the roads between Lanquin and Flores well-maintained?
Road conditions between Lanquin and Flores can vary. While some sections may be well-maintained, others can be more challenging, especially during the rainy season.
Are there any direct buses from Lanquin to Flores?
There are no direct buses from Lanquin to Flores. The shared van shuttle is the most popular alternative for public transportation, providing a hassle-free and comfortable journey.
Do I need an international driver's license to rent a car in Guatemala?
While some car rental companies may accept a valid driver's license from your home country, obtaining an international driver's license is generally recommended for added peace of mind when renting a car in Guatemala.
Plus d'itinéraires depuis Lanquín